The lakes are mostly still frozen and it's still cold, but time to think about spring riding which will be right around the corner.
NP Surf used to be NPX and NP and I have a great selection of suits on the way and can also order more if I don't have the right size coming. To help all my friends and customers, I'll offer a discount on these suits to help save you a few dollars. CALL OR EMAIL ME FOR DISCOUNTED PRICING. TRUST ME, IT WILL BE WORTH IT.
Please go to
http://www.npsurf.com
to see much more detail on each suit and each suit is also listed at
http://www.kiteridersllc.com
. The ones listed below are what I have on order and arriving soon.
NP Surf Mens:
1) NP Surf Edge 6/5/4 Hooded Wet Suit E3:
$438.00 retail.
Designed for cold waters and this years suit has a much better hood and increased durability on the seams. It replaces the NPX Zealot which has been my favorite suit for many years. This is the top of the line suit and it only makes sense to have the warmest, best suit possible when it's cold. Don't skimp at this level.
2) NP Surf Mission 5/4/3 Wet Suit E3:
$338 Retail.
Designed for cold to cool temps and replaces the NPX Assassin suit.
3) NP Surf Mission 4/3 Wet Suit E3:
$328 Retail.
Designed for cool waters and temps and replaces the NPX Assassin suit.
4) NP Surf Rise 3/2 Wet Suit:
$218 Retail.
This is a great value suit for those who just need something to help keep a little warmer when it's chili outside.
5) NP Surf Rise 2/2 Shorty:
$115.95 Retail.
It's a shorty. Nuff said.
NP Surf Womens:
Can't forget the women and ladies who are rocking this great sport.
1) NP Surf Serene 5/4 and 4/3
: $329.00 and $319.00 Retail.
Designed for clod to cool temps and available in a few cool colors. Special order as needed.
NP Surf Accessories:
1) NP Surf 5 Finger Seamless Glove 3mm
$47.99 Retail.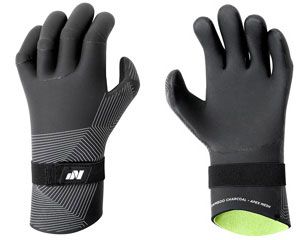 2) NP Surf 3 Finger Seamless glove 5mm
$45.99 Retail.
3) NP Surf Split Finger Glove - Open Palm
$28.99 Retail.
Need Booties?
Contact me since I have very few left and will have to order.
Thanks as always for looking.
Bob
http://www.kiteridersllc.com