got back from la ventana and have some pictures.
I would have uploaded more but my internet connection is freaking slow!
It's a great place. I recommend going there, especially if baja has a very dry summer and fall. that's something to really look into b'c it helps the wind blow harder, stronger, etc. the drier it is, the more the desert heats up and the greater the thermal effect.
the whole town/area has a great vibe...really small and super friendly...knowing spanish really helps too, duh. I stayed at baja joes which is a good place if your looking for a cheap room. fun common areas for everyone...ventana windsurf next store is the hookup...locals cook all the guests meals, happy hours, etc...so if you've got the $ it's all good
anyways, this first shot is of the bay. you can see the mass of land across the water in the distance...isla de cerralvo...there was a race from the island back to the mainland...super cool time! however some jacko said the wind in the middle of the bay was WAY stronger than it was, so some of us were a bit underpowered at times.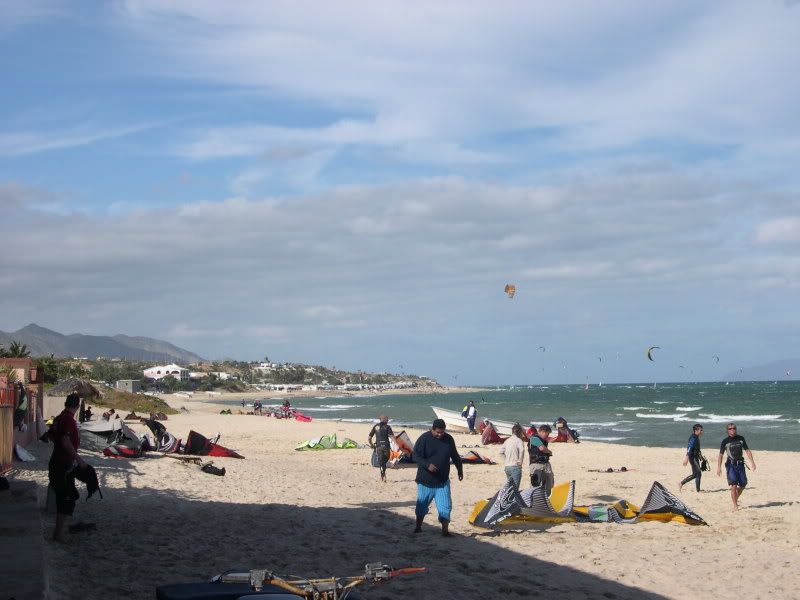 the second shot is a from a day where the wind was dying. still enough to keep a 16m in the air. harnessed into the kite and holding onto the rope attached to the boat with your other hand. this guy was still in the water and waved a boat over that was pulling a wakeboarder behind it.
going to be in a corpus/padre for a while then finally making it to hatteras where I'll be for the whole damn season! see some of you out there, drop me a line and don't be shy!