Moderators: Misfit, adseguy, Pier, Bob, kris, IVO, skysurfr, West
Resident Windfreak
Posts: 212
Joined: Wed Jun 28, 2006 9:25 am
Location: cabarete,DR
---
Resident Windfreak
Posts: 265
Joined: Mon May 26, 2008 1:35 pm
Location: HOOD RIVER - THE GORGE, OR
looks sick, bet she runs a pretty penny
---
---
Kite Crew in Training
Posts: 143
Joined: Mon Jul 09, 2007 1:56 pm
Location: Southern Lake Michigan
Ludacris price tag.....$750.00 give or take?
It does look cool for snowkiting and is very functional for that if in the event you go in the drink you are covered.
Not too sure about water riding. Hood looks like it could become a bucket if you got worked really good.
It looks great dry, but when wet it looks super soggy even worse than say any other bag suit.
Don't want pockets scooping and creating drag in the water either....I'd have to really try it to give it the best review, but at a glance it seems quite fashionable, just not sure if I want to look like a knuckle draggin snowbarder on the water. I guess it will remain to be seen how functional the suit really is in a real world enviornment like a 9m northerly on Lake MI.
Dre makes it look great while staying dry hitting rails in shallow water. I want to see what it looks like when he eats it and gets it soaked. Is he still smiling or has the stoke washed off his face?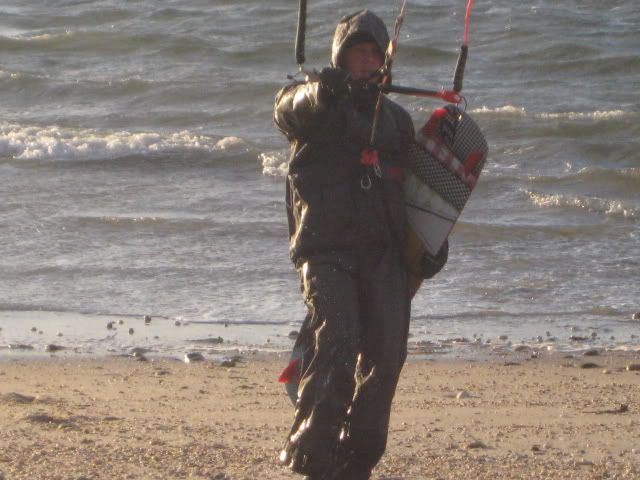 I used to work for a snowboard outerwear company called DUB, we almost tried a suit similar to this for snowkiting exclusivley, but it was cost prohibitive and the market wasn't ready for such a specialized item yet.....that was like 6 years ago.
NPX did do a really good job with this innovative design....Kudos to the designers for sure.
Similar thread
http://www.mackiteboarding.com/forums/i ... topic=4263
---
Resident Windfreak
Posts: 212
Joined: Wed Jun 28, 2006 9:25 am
Location: cabarete,DR
yeah no doubt i hear what your saying , but i steeze it out. in a XXL suit and love it. waist is at the ankles.
Door County Crew
---
---