Moderators: Misfit, adseguy, Pier, Bob, kris, IVO, skysurfr, West
Hi, I just bought a used kite however there is a name and a phone number that's not mine. Does anyone know of any ways to erase it without hurting the kite material. Thanks
Kiter Noob
Posts: 3
Joined: Sun Jul 24, 2011 10:45 pm
---
Try a piece of sail tape over it on both sides.
7,9,12m Bandit V, Infinity V2, 135 xenon, 154 door
Pump Master
Posts: 67
Joined: Tue Jan 22, 2008 2:13 pm
Location: Chicago
---
try goof off. but first test the area.
FAT LADY 17M;RPM 9,12M;Nobile NHP 7m
NHP 137";2015 SS Celeritas 5.11
Ben 630space638space3888
http://www.youtube.com/ironbeno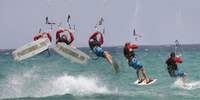 Master of Kite
Posts: 469
Joined: Mon Oct 12, 2009 2:05 pm
Location: Villa Park
---
sunscreen spray worked for me in the past...
omne solum liberum libero patria
Resident Windfreak
Posts: 273
Joined: Fri Mar 23, 2007 6:16 pm
---
---
Who is online
Users browsing this forum: No registered users and 5 guests