After an outstanding day of kiting last Wednesday here in Sheboygan I awoke Thursday morning to forecasts that looked weak at best for the next 5 days. I looked at what was going on in Lake Superior and found wind. The NOAA Marine forecast was for 15-25 west Thursday evening until Saturday morning with ikitesurf saying 17-22 W for a solid two days. A small craft advisory was issued for just the immediate shoreline of the western Keweenaw Peninsula. I have been heading up to the Keweenaw area a few times each winter for skiing for almost 10 years but have never gone up in the summer. So in 45 minutes I tossed my kites, camping gear and wife in the car and headed up.
First stop on the Keweenaw was the town of Eagle River and Great Sand Bay- a 6 hour drive from Sheboygan. This is the largest stretch of sand on the peninsula and it sets up perfectly for a west wind. We rode right in the town of Eagle River as the wind was true side on, beach was the widest here with knee to waist waves. Water was much warmer than I thought and I could have been in a shorty. The wind was lit 8 meter on 20 meter lines, making for hard carves and big boosts. My wife Rayna barely held down a 7.
That night I went to bed with crazy wind blowing through the forest under which we were camping. Knowing that forecast was for more of the same, I wished I had brought my 5 meter so I could maximize my surf board in the waves that I thought were building.
Friday morning we drove Highway 26 from Copper Harbor to Eagle River looking for future launches and pockets of sand. With nothing promising, we returned to Great Sand Bay and Eagle River. Shockingly, zero waves were to be had after a strong all night blow. I later discovered two reasons for the lack of waves. One is of the Eagle River Shoal. The is an outside reef that sits right outside the 5 mile long great sand bay and rises up to 3 ft. See chart (
http://www.charts.noaa.gov/OnLineViewer/14964.shtmlt
). The second reason was that the front was not throughout the entire western part of Superior, but just along the shore line of the Keweenaw. This was something the Isle Royal ferry captain explained the night before. With 30knots winds blowing he said "no waves in Eagle river tomorrow" I bet him a beer and lost.
Again I rode in Eagle River to take advantage of the side on conditions and wide beach. The NE part of Great Sand Bay did have bigger waves but the wind was on-shore, the waves sectiony and wind blown. After two hours of riding, I down-winded to northern end of great sand bay enjoying the strong winds and great scenery. With almost three hours of kiting in nice, but not amazing condition's it was time to do some other things.
Next stop was lunch at Fitzgards in Eagle River and a swim in one of the deep water swim holes of the eagle river. Rest of the afternoon was a sweet tour of an old copper mine, swam in the lakes around Copper Harbor and hiked a stand of virgin forest with huge White Pines, Birch and Sugar maples.
Saturday we were going to go mountain biking and rent some bikes from my friend that owns Kewanee adventure company (
http://www.keweenawadventure.com
) But after three days of hard kiting and a late night of cheer while catching with old local friends neither of us felt up for biking at 10 am. With that plan out the window, we instead explored Hunters Point which forms the outside of Copper Harbor Here we found one launch that could work on a NNW if not washed out from the waves.
Last spot I wanted to check we hit on the way home. This was Mclain state park which sits just of the east of the entrance to the Ship channel that goes through Houghton Hancock. I didn't really expect to kite but arrived to see 18- 23 side on conditions and the best flat spot I have seen in some time. Rode for about 2-3 hours on nice wind and again warm waters. The beach is narrow but fine and shaped as a bay so it is a safe place.
The Keweenaw is a great place to go it you want to kite but also want to do a bunch of other great stuff in a beautiful place. I have been to Maine a few times before and the Keweenaw in the summer is almost the exact same. I'm still not given up on waves in the Great sand bay, just waiting for next time.
Sleeping
, lots of places to stay up there in summer, hotels, cabin and tents. We camped in the Fort Wilkens state park, which was nice, but if busy the camp sites would not be very private. West end has nicer sites. Another great place is Sunset Campground right on the lake SW of Eagle River about 10 minutes with outstanding lake side campsites. The cabins at Sunset are highly recommended. We wanted to see friends that live in copper harbor and enjoy the town so that is the only reason we didn't stay there.
None kiting
. If you are a mountain biker there is no better place to try to kite. Copper harbor has crazy trails from what I've heard with national and international distinctions. (
http://www.copperharbortrails.org
). Lots of Kayaking, Canoeing and Standup opportunities in the harbor and on the lake. I want to get some fishing in next time I'm up on the inland lakes. My favorite activity of all though is to watch the people that trailer a small ATV like truck up there. Once there they then get in the small truck and drive some more. Mom is always riding shot gun.
Eating
. Places one needs to visit for sure up there include Fitzgerald's in Eagle River, its right on the water and where I kited. Outstanding southern Style BBQ done right and local fish dishes, owned by two young guys that got it figured out. Future web cam
http://www.eagleriverinn.com/index.php?id=6
. They also have a shockingly fine selection of whiskeys and scotch. Ziks in Copper Harbor is a great bar and dinner. Pasties to go, a meat pie that is hand held that fills ya up for a day of kiting.
Breweries
. Keweenaw brewing company in Houghton is a needed stop on the way there and home. It's right on 41 next to the Hardware store. Great selection and pints for $2.50. There's no food but you can grab stuff at any of the other restaurants and bring it in. I always grab a growler for the road. Brickside brewery. This is a new brewery in Copper Harbor that has been opened for only few weeks. I liked the beer and the small bar area. Not bad for such a small town.
Great Sand Bay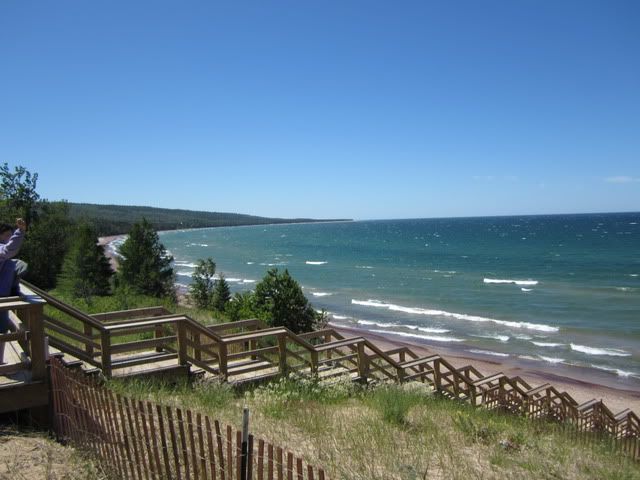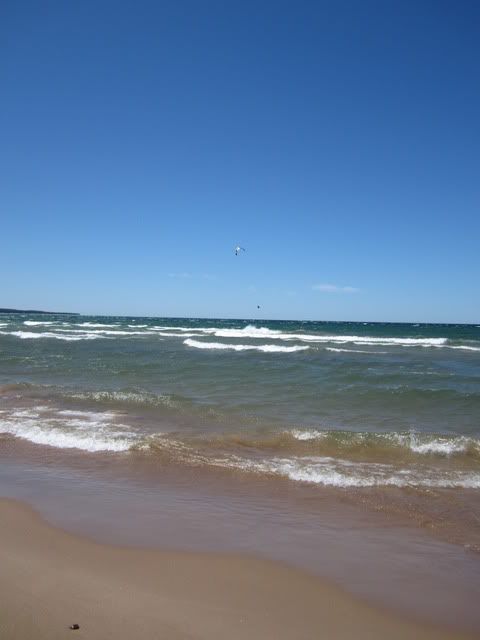 Beach at Eagle River and Fitzgerald's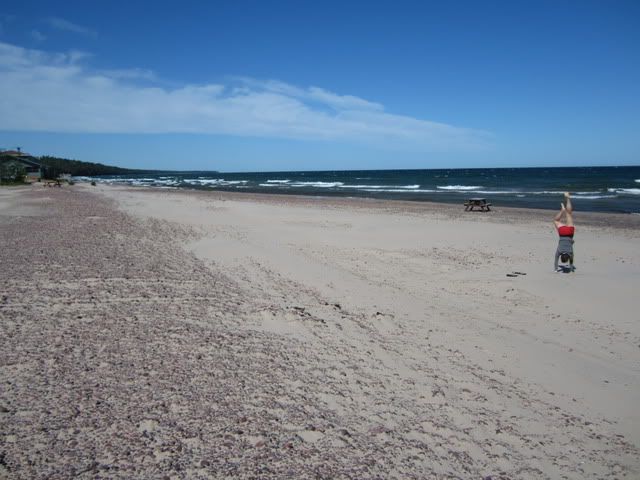 Riding Eagle River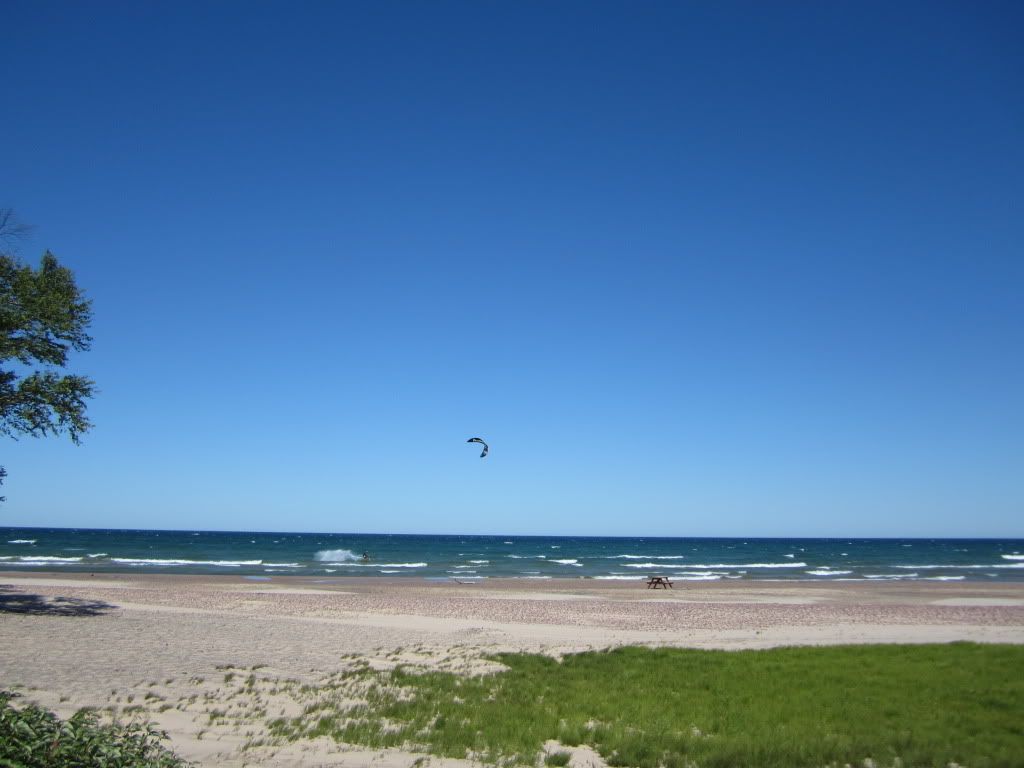 Swimming Hole
Copper Harbor launch at Hunters Point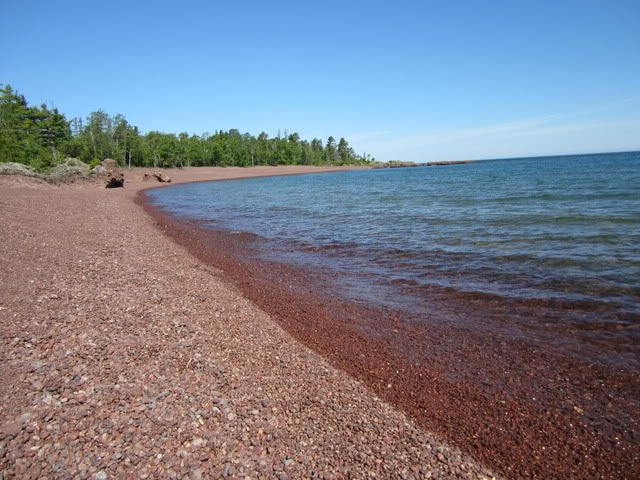 Mclain State Park