Moderators: Misfit, adseguy, Pier, Bob, kris, IVO, skysurfr, West
Kite Dominator
Posts: 980
Joined: Sat Feb 21, 2009 5:11 am
Location: Des Plaines, IL
Contact:
---
---
Master of Kite
Posts: 452
Joined: Mon Aug 13, 2007 8:33 am
Location: Beach Park (down Wadsworth road from zion)
I prefer flying spaghetti monster with coffee table.
Your right though that is not flat water. That is a fricking mirror. The sound of the board ripping the surface when it is that flat is just hypnotic.
Me = 145lb + 6" + (15M spd3 dlx, 11M x-bow, Kahoona 9.5M, 7.5V2) + Zap skim, home made 133 orange carbon aka Bifrost, home made black 170x50 cabon racing light wind tt, 133 wide tip carbon) + red helmet
---
super cool!
I love it. Great music too.
It got to be very shallow there.
In moment looks like rider is standing still.
I had a section on flat water in super light wind on my big door in SPI.
So calming.
FAT LADY 17M;RPM 9,12M;Nobile NHP 7m
NHP 137";2015 SS Celeritas 5.11
Ben 630space638space3888
http://www.youtube.com/ironbeno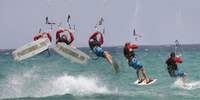 ---
Wind Whore
Posts: 1941
Joined: Wed May 07, 2008 1:07 pm
Location: Lincoln Park - Chicago
Contact:
That is FLAT! No fun to just mow the lawn though, but I saw he had a kiteloop thrown in though....not bad
Adrien - 773-208-3443
7,12 Epic Screamers
2014 7,9,10,12,17 Blade Triggers
2014 132x41 Axis Vanguard
---
While I agree nG, that is clearly not hard-core riding, it is pretty cool to see though. I haven't seen water quite like that before.

And, I'd rather be there doing that right now than sitting indoors at work.
---
I rode a couple of years ago some miles out from Key West at a place called the flats where the water is just a few inches deep and the sea grass tickles the board and keeps the water calm. It was pretty sick. The glass went on for miles in every direction away from the boating channel. Rode lit on a 13m and a 137 and was literally lol the whole time. I don't hear people talk about this spot much. Nick out of 7 gave lessons out there on a sandbar and gave me a lift out and back for $80.
- Steve
---