Moderators: Misfit, adseguy, Pier, Bob, kris, IVO, skysurfr, West
I am in chicago and thought tomorrow might be a possible day in chicago area to kite. Im from Ohio. Is anyone going out tomorrow. Please call/tect/facebook. 440.263.7970. or facebook laura malkawi. By the way, I can typically go up wind. Not all the time though. I can ride both ways and transition. No jumps yet. if the wind is light i have trouble going upwind. I only have a 10M with me.
Kiter Noob
Posts: 2
Joined: Thu Jun 21, 2012 9:04 pm
---
Looks like Monday is going to be the day.
Resident Windfreak
Posts: 279
Joined: Fri Feb 03, 2006 6:23 pm
Location: Miller Beach
---
you should stay till Monday and get some. looks like its going to happen. last week was great!
FAT LADY 17M;RPM 9,12M;Nobile NHP 7m
NHP 137";2015 SS Celeritas 5.11
Ben 630space638space3888
http://www.youtube.com/ironbeno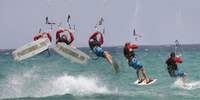 Master of Kite
Posts: 469
Joined: Mon Oct 12, 2009 2:05 pm
Location: Villa Park
---
---
Who is online
Users browsing this forum: No registered users and 6 guests