weÈve been riding at the north flats every day and ùi had this pîc taken of me. sorry for the bad spelling...ùièm using a french computer. been hanging out with some new friends from isle de la madelaine in north east cananda. theyève helped me a lot with my riding.
iève been rocking a 123 when the winds really blowing...itsè super small and nible, really fun.
ùièm getting there with my jumping but crap, ùi fall out of the sky pretty hard a lot!
one of these guy is a great photographer but ùi only got in one shot before the wind completely died out for the day.
lastly, this place rocks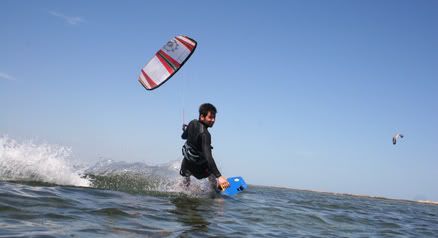 no, the kite didnt crash, was just diving it to get some power